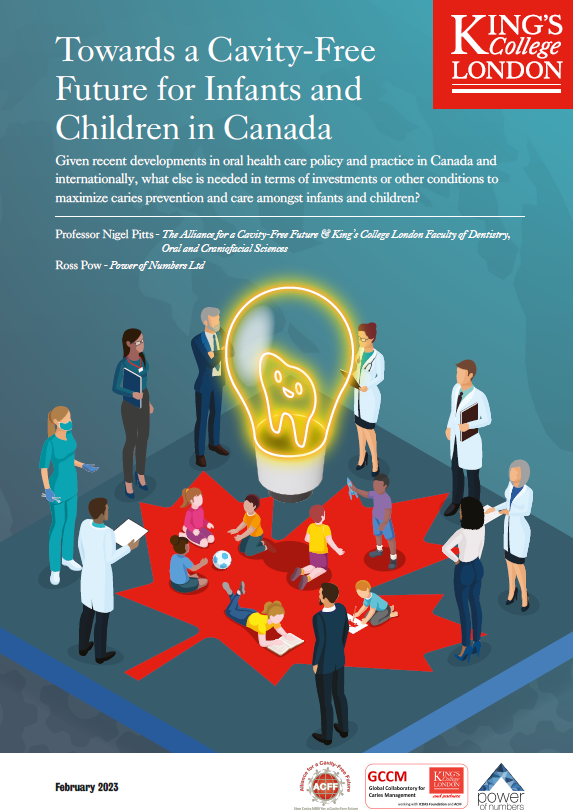 The ACFF has recently been involved with a range of stakeholders in shaping the direction of oral health care policy and practice in Canada. It seems that, together, we we may have also helped in shaping the approach the Canadian Government has taken to funding better oral health. Starting in March 2022, the ACFF Global Team and Canada-US Chapter worked together to prepare an Oral Health Policy Lab in November 2022 to answer the question:
Given recent developments in oral health care policy and practice in Canada and internationally, what else is needed in terms of investments or other conditions to maximize caries prevention and care amongst infants and children?
The Lab brought together academics, government, nurses, dental assistants, health and social service, economists and more from around Canada for a 24-hour event in Ottawa using the tried and tested methods shown at the three London-based policy labs in 2017, 2018 and 2019.
The report of the Lab was published in February 2023, detailing the background and the proposed policies that were the result of the group's discussions. It was circulated round to all the stakeholders in Canada and on March 2nd Prof. Nigel Pitts, Global Chair of the ACFF, gave an invited presentation to the Canadian Federal-Provincial-Territorial Dental Directors Working Group on the Lab and its findings.
In late March 2023, the Canadian Government announced a new $13 billion CAD for Canadian Oral Health. Some of the listed new initiatives align closely with the conclusions described in the Oral Health Policy Lab report including:
The New Canadian Dental Care Plan
Expanding access to dental care
Investing in better dental care data.
The ACFF would like to thank all those that helped plan the Policy Lab and the attendees that took part and helped co-create a future path to maximize caries prevention and care in Canada, particularly amongst infants and children.
To find out more about the Policy Lab and its findings, please visit our policy lab page here to download the report for free.
If you have any questions about the Canada Policy Lab or the ACFF Policy Labs please email admin@acffglobal.org.