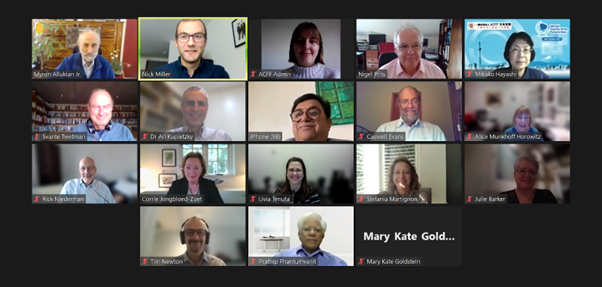 Last week we hosted the annual ACFF Expert Panel Meeting. This meeting is usually held as a multi-day event in Washington, DC. Unfortunately, the meeting was unable to be held in Washington and was instead held virtually on Zoom. The meeting was spread over two days in two three hour sessions.
The ACFF Expert Panel is a team of international experts in cariology, dentistry, public health and other related disciplines who are all committed to making cavities history. They have driven the direction of the ACFF and guided the steps that the organisation takes since our launch in 2010. We would like to thank them for dedicating their time and commitment to aid us in our journey.
A range of topics were covered in this year's meeting including World Cavity-Free Future Day, BDJ Caries-Focused Issue, and the ACFF Oral Health Policy Lab Network. The insight and advice given by the Expert Panel was invaluable for developing ACFF's future plans.
The ACFF Expert Panel Members are: Mahesh Verma, Ihsane Ben Yahya, Corrie Jongbloed-Zoet, Alice Horowitz, Caswell Evans, Ari Kupietzky, Chet Douglass, Livia Tenuta, Stefania Martignon, Mikako Hayashi, Myron Allukian Junior, Prathip Phantumvanit, Rick Niederman, Roger Ellwood, Svante Twetman, Tim Newton, and Nigel Pitts.
We would like to thank all members of the Expert Panel for the time and energy they give to the ACFF.